Annual Everglades Area Tours.com Paddle-In

February 22nd 2014

Please RSVP ... click here
In 2006 we had about 70 kayaks. In 2007, more like 170. In 2011 we were blown off the water with gale force winds. This year the weather will be perfect … hopefully!
The Florida Society for Ethical Eco Tourism is the beneficiary for this year's event! Please visit their website, become a member and signup for their newsletter
(Below is Slade Key, as folks were showing up on a past event!)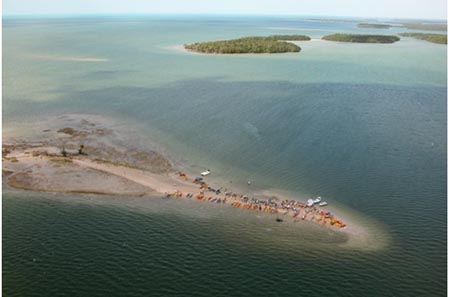 2014 Schedule of Events
Note: Paddle-In participants will receive a 25% discount on all the educational eco tours on Friday and Sunday with a membership/donation to the Florida Society for Ethical Ecotourism (Florida SEE)
Thursday Feb 20th - 22nd; 3 day - 2 Night Kayak/Camping Trip ending at the Paddle-In Event
Friday Feb 21
Saturday Feb 22nd EKF Paddle-In -
8:30 -- Launch @ ENP Gulf Coast Ranger's Station - Conch Chowder, Brats and Goodies for lunch on the beach. $20 Donation/Membership to the Florida Society of Ethical Eco Tourism Requested
4:00 -- ???? Party @ JT's Island Café and Gallery - BYOB
50/50 cash raffle to benefit the Florida SEE
4:00 - 6:00 -- Happy Hour
5:00 Live Music 4:00 to ???
5:30 - 7:00 BBQ - Dinner ($12) 6:00 Fire Ring
Sunday February 23rd
2014 Event information
This year's event is scheduled for Saturday, February 22nd and we are looking forward to another great day. The event will be the same informal format as in the past ... very casual. It is a social event to bring together paddling folks for a day of family-oriented fun. It is a great opportunity to meet new friends who enjoy the paddling the area, learn a bit of the colorful local history and experience a wonderful part of Florida.
There is no cost for the event. However, we always try to raise money for a worthy non-profit. The Florida Society for Ethical Eco Tourism is the beneficiary for this year's event! Please visit their website, become a member and signup for their newsletter.
Florida SEE is dedicated to maintaining a professional code of ecotourism ethics in order to encourage an awareness and stewardship of Florida's natural and cultural heritage by:
1. Endorsing compliance with federal, state, and local laws regarding the protection of natural resources and customer safety.
2. Providing environmental education and awareness which encourage behaviors that contribute to the sustainability of Florida's natural ecosystems and resources.
3. Promoting professionalism and integrity within the ecotourism industry by providing and maintaining a certification/recognition program for ecotour providers.
Like last year, we will be paddling with the assistance of the tidal current to a beach site on "Indian Key" in Indian Key Pass. The low tide at Indian Key is about Noon. The tidal flow will not be a very strong tide. This means current flow stops and reverses direction on the island about 1:30. Unlike most other years, we do not have to leave at daybreak! We are planning an 0830 launch. You are certainly welcome to leave earlier or later, but please be aware of others, particularly the Park staff, and do not clog up the launch site with vehicles. Please park where designated and ready your craft and gear before coming to the launch. There will be a shuttle trailer to take you to the launch.
You should allow two and one half to three hours for the paddle, but that depends on your pace. (I go slow and let the current do the the work!)
Once on the beach, Everglades Area Tours will be serving Vickie's famous conch chowder, bratwursts and other goodies. Yes! You WILL be hit up for a membership/donation for the Florida SEE.
This year's After Paddle-In Festivities will be Saturday evening at JT's Island Café and Gallery on Chokoloskee Island sometime around 4:00 pm. We will have live music and Scott O will be serving his "world famous" BBQ dinners ($12). Scott is a world ranked BBQ competitor, a very experienced kayak angler and a good friend.
It is important to RSVP so we know how much food to prepare. Please let us know if you will be staying for the after- event party as well.
We will be have event tee shirts made again this year … still working on the design … we still have some of last years if you would like one (pictured below) These will be long sleeve and $20 (as always). Send me your quantity and size. We will have them at the launch site for you to wear at the event if you choose. NOTE: We can't collect $$ there per the Park regulations. You will need to pre-pay for these (credit cards are fine)
SHIRTS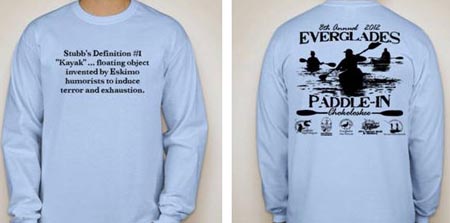 Email us if you wish to RSVP ...
Rental Kayaks will be available, but you do need to reserve them in advance.
Friday afternoon AND Sunday morning, we will be offering three of our most popular eco-educational experience at a 25% discount to those who join the Florida SEE. You can choose from two kayak based tours or the Guided Swamp Walk (this experience truly is special!) Please see the links above.
Sunday the 23rd, we will be doing a guided Yak Attack kayak fishing trip deep in the Park. There is limited availability so reservations are required for these trips.
For the more adventurous, a 3 day 2 night tour leaves Thursday the 20th. This culminates at the Paddle-In for lunch on Saturday. Reservations required.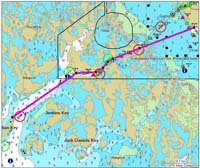 Like last year we will be launching from the National Park Launch. The tide will be falling that morning from Chokoloskee Bay out to the Gulf. The tides move fast here ... faster than most Florida paddlers are used to. Indian Key pass, especially, has strong currents. At launch time, you will have the current at your back, so "drifting" to the lunch site is quite possible. The tide flow will reverse about 1:00 and begin flow back in. It is just shy of six miles to Indian Key, but until around 1:30 the current will be flowing 1-2 mph in your favor.

There are some considerations with this paddle.




To take advantage of the current, you do need to leave in the AM. We are planning a 0830 launch. If fishing, I suggest riding the tide out the pass and wait to fish until you are near Indian Key. Fish the outside areas once you are there. You can then fish your way back with the tide as it rises.

There are several nice shell beach areas to take a break along the way out to Indian Key. These are shown on the chart.

Once you leave Chokoloskee Bay you will be in deep water. EVERYONE needs to be wearing a PFD. The last stretch is in open water, please be sure that you have an appropriate kayak. . .i.e., no 9' SIT's please.

Indian Key is great. This island has a very nice sand beach on one side that does not fully submerge at high tide. There is also lots of vegetation on the high elevations of the island for privacy, as well as, offering some good exploring.

If you have fishing rod on your yak, please make sure that you have a fishing license.

We no longer do a raffle ... it makes things too commercial in our opinion.

NOTE: IF THE WEATHER DOES NOT COOPERATE, OUR ALTERNATE DESTINATION WILL BE CHOKOLOSKEE ISLAND PARK ON CHOKOLOSKEE ISLAND!!




PLEASE RSVP with the number in your party so we will know how much food to prepare. As well, please let us know if you will be coming to dinner Saturday night and if you would like a hat and/or tee shirt...

In past years, things went off without a hitch because everyone was be respectful and courteous. As with last year, we must operate within the constraints of our permit or we are not going to be invited back. PARK ONLY IN THE DESIGNATED AREAS. Some of us will be there to assist with the parking. We will have a couple of yak trailers shuttling your kayaks to the ramp. PLEASE DO NOT PULL UP TO THE RAMP and clog the launch area ... Try to Car Pool!!!

The Park usually has a interpretive tour leaving a 10:00. PLEASE BE CLEAR OF THE LAUNCH AREA BETWEEN 10:00 and 10:20. PLEASE!!

The launch site will be muddy, you may want to put an extra pair of shoes in your vehicle.

If you need a rental kayak, you must let us know in advance.

In about 2.5 hours of leisurely paddling, you should pull up on the island beach where we'll have lunch. Bratwursts and cold soft drinks will be available as will Vickie's famous conch chowder. If you wish to have anything special for lunch or for your kayak ... please bring it.

The tide should start moving in around 1:30 and the beach will begin covering with water. The tidal flow now will be back towards our launch site and you should be able to ride it in.

If you are fishing, I would suggest a very early launch ... It is winter, fish slow and thorough. Once the tide starts to flow in, the speckled trout should move in around all of the outside islands.

For those interested in kayak fishing some of the remote areas of the Park, we have a kayak fishing trip aboard the "Yak Attack" scheduled for after the Paddle-In.

We will have rental kayaks available, but you need to let us know in advanced. Also, PLEASE RSVP with the number in your party so we will know how much food to prepare,

We suggest that if you wish to have overnight accommodations that you make reservations early. There are a few places on Chokoloskee Island and more in Everglades City 3 miles away.




Parkway Village Motel and Marina (Bill/Geri) 239-695-3261

Chokoloskee Island Park 239-695-2414

Everglades City Motel 239-695-4224

Outdoor Resorts (Kenny) 239-695-2881

Captain's Table 239-695-4211

River Wilderness 239-695-4499

Ivey House Inn 239-695-4299

Port of the Islands Everglades Resort 866-348-3509

For the campers, the choices are few




Chokoloskee Island Park 239-695-2414

Outdoor Resorts (Kenny) 239-695-2881

Trail Lakes Campground 239-695-2275

The Island Cafe and Havana Cafe opens at 6:00 for breakfast. The Triad Seafood is the place to get stone crabs. For lunch in Everglades City enjoy the Camilla Street Grill, Island Cafe or the Seafood Depot. Havana Cafe is on Chokoloskee Island. We will be having our get together at 4 pm at JT's on Chokoloskee Island. While you are here, be sure to visit the Museum of the Everglades and the Smallwood's Store. For your fishing tackle needs, Win-Car Hardware is the place.